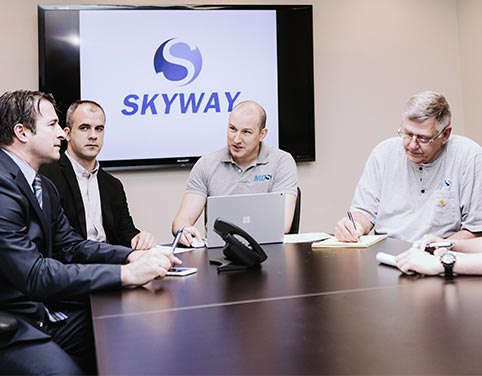 WHO WE ARE
Skyway Holdings is a family owned, full-service transportation and logistics company consisting of two main divisions: MDS Trucking and Skyway Brokerage. MDS is an asset-based carrier providing shipping services throughout the Continental United States with a large fleet of power units and a variety of trailer equipment, while Skyway operates as a third-party domestic and international logistics company. As a 3PL, outside of MDS, Skyway provides its customers with domestic and international air, ground, and ocean contracted carriers. From small parcels to fcl and oversize shipments Skyway can do it all. By integrating our logistics and asset companies, we improve customer service and significantly lower shipping costs. Reliability has been our reputation since day one, and the ability to sustain the growing needs of our customers is unprecedented.
HOW WE STARTED
In 2005, Mike and Daniel Vuckovic started a small trucking company in the Western Suburbs of Chicago. Knowing it all started with them, the brothers got in the trucks themselves and put the work in. Driving over two million miles together, with the help of their trusty rig they grew the company the only way they knew how - hard work, and a dedication to service. Gaining a reputation as a fair and honest company, the asset side grew bit by bit. After a few years the brothers recognized that their customers wanted them to service more lanes than our drivers could physically support, and needing other trailer types not in the fleet. To accommodate these needs, the brokerage was born. Growing year by year, we still maintain the adherence to quality service and putting in the effort our customers have learned to expect.
WHY CHOOSE US?
At Skyway Holdings we treat each shipment as if it were our own. MDS Trucking is recognized as a leader in on-time shipping and safety performance and ranks among the most reliable freight carriers in the nation.
Powered by technology and people, Skyway Brokerage exclusively manages large corporate accounts from across the country. We provide logistics solutions , regardless of size, and are dedicated to achieving the highest level of service for our customers. Skyway Brokerage conducts frequent and extensive market surveys, ensuring our customers receive competitive shipping rates. Request a quote or name your own price, and our experienced pricing specialists will contact you immediately.
Contact us today to discover the Skyway difference.
Dedication
Providing shipping services for your specific needs
Availibilty
We are always a click or phone call away
Accuracy
Safe deliveries made on time
Cooperation
Working with you to develop the best shipping plan
Experience
Benefit from the knowledge of our expert shipping professionals
Support
Receive 24/7 support and shipping updates