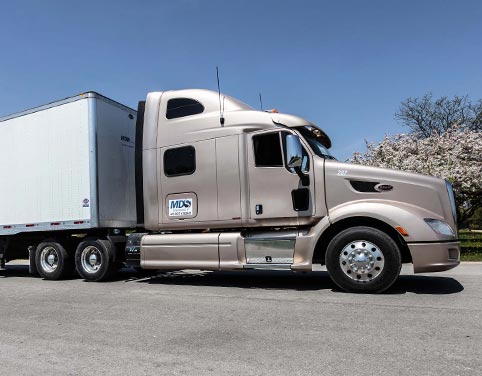 The No. 1 Choice for Your Shipping Needs
MDS Trucking is a leading Chicago trucking company specializing in dry and specialized freight transportation services. By utilizing technology customized to our customers' needs, we deliver hundreds of on-time shipments daily throughout the Continental United States. In collaboration with outside and affiliated agencies, our safety managers and pricing professionals are experts in all regulatory changes and DOT requirements. Our entire fleet of tractors is equipped with Automatic On-Board Recording Devices (AOBRD), ensuring real-time freight tracking, as well as optimum performance and safety monitoring.
Get the best deal
Customized client experience
Standard service
Cost efficient shipping service
Guaranteed shipping
Time efficient premium service
Keeping in mind quality of our services at all times, we are always looking to expand. One of the key reasons for our success are of course – our drivers. We are constantly looking for experienced drivers, who know their way with the vehicle and have a great PSP records.
If you want to join our team – you are at the right place!
WHY DRIVE FOR US
We operate in 48 states, servicing more than 2,000 customers. We offer steady work and have the lowest turnover rate in the industry. There is no forced dispatch, so you choose your loads, runs and schedule. Sign on as company driver and enjoy employer sponsored benefits or become an owner operator
OWNER OPERATORS
Compensation
$5000+ average weekly settlement
Referral bonus
Driver Requirements
CDL-A
2 years vehicle experience
Position Offers
Assistance with base plates
Free parking (based on availability)
Free IFTA filing and payments
Fuel card
Fuel discounts
Rider policy
If you don't own your own vehicle, we can help you get started.
We offer:
Weekly/Yearly Lease program (Penske, Ryder or our company trucks)
Lease to Own Truck (No Credit Check)
You keep 88% of the load gross amount, we take 12%
Rate Confirmation right from dispatch
No forced dispatch
You can also lease our 2018 or 2019 dry vans or flatbeds/step decks
COMPANY DRIVERS
Company drivers enjoy the following benefits:
W2 pay
Workers Comp
Health Insurance
Competitive pay
Flexible schedule
Sign-on bonus
Referral bonus
WE ARE ALWAYS LOOKING FOR EXPERIENCED DRIVERS
The key point of our success are our employees. This is why we are offering the best working conditions in the industry and why we keep our drivers constantly motivated. Apply today and find out why people enjoy driving for MDS.