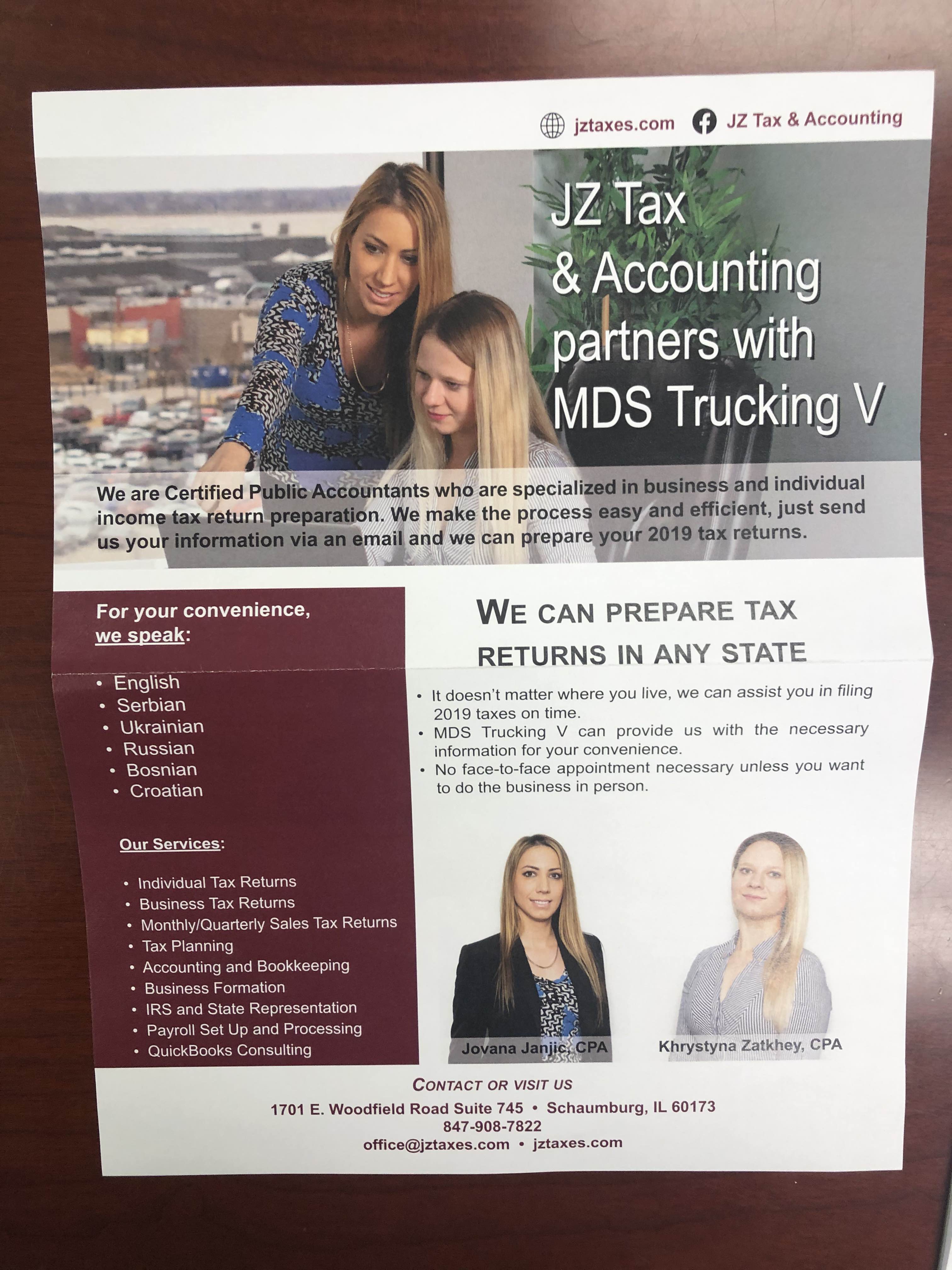 Since many of our drivers here at MDS Trucking asked us about tax-related topics and issues, we've decided to extend our cooperation with Jovana and Khrystyna from JZ Tax & Accounting team, who will make filing a tax return as easy as possible and reduce the amount owed.
For their client's convenience, Jovana and Khrystyna (Certified Public Accountants) are offering Tax & Accounting services in multiple languages – English, Serbian, Ukrainian, Russian, Bosnian and Croatian – and specialize in both business and individual tax return preparation.
What changes does 2020 Bring for Truckers Taxes?
ATBS provided detailed information of what's to come regarding truckers' taxes in their article Tax Moves for Truckers to Make Before Year-End. It's quite all right if all this is overwhelming, as JZ Tax & Accounting team can walk you through each scenario, making sure everything is filed correctly this year, and in years to come.
Some of the advice includes:
Buy Assets - ONLY if you Need Them
Calculate your Per Diem Deduction
Calculate your Qualified Business Income Deduction
Consider Getting Taxed as an S-Corporation
Get Caught Up on Quarterly Tax Estimates
Make an Individual Retirement Account (IRA) Contribution
Of course, for more detailed information behind each piece of advice, you can read the full article here.
Join Us at Our Event and Meet Jovana and Khrystyna from JZ Tax & Accounting
Finally, we are more than happy to announce MDS Trucking V & JZ Tax & Accounting partnership events, which will be held here at MDS Trucking on January 17th and 24th at 3 pm. If you even consider getting a tax or accounting advice, this will be a great chance to establish a valuable connection as well as get some snacks and refreshments. Some of the services offered by this company:
Individual Tax Returns
Business Tax Returns
Monthly/Quarterly Sales Tax Returns
Tax Planning
Accounting and Bookkeeping
Business Formation
IRS and State representation
Payroll Set up and processing
QuickBooks Consulting
And many more - no matter where you live and all this with no face-to-face meeting necessary.
However, we still hope to see you face-to-face at these events!