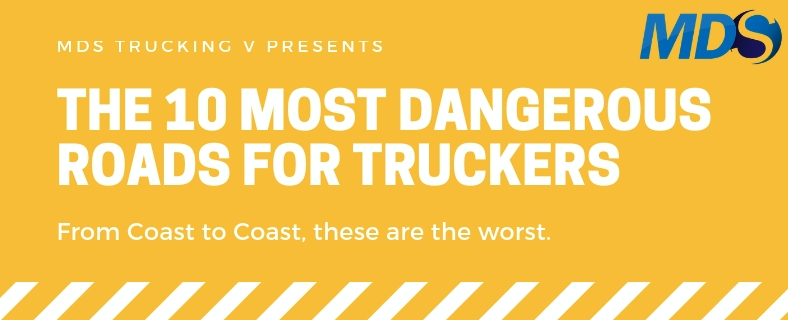 With more and more vehicles on the road and more and more drivers distracted by the latest electrical gadget, driving a big rig is one of the most dangerous jobs in the United States. In fact, one recent report stated that OTR drivers have the seventh most dangerous job in the country.
And even though every road you're on should be viewed as dangerous, there are 10 in the United States that tally the most truck-related accidents. Every few years the U.S. Department of Transportation releases a list of the most dangerous roads in America.
View our infographic below for the 10 most dangerous roads for truckers in the United States
Along with 10 of the most dangerous highways for truckers, the DOT also collects more specific data on truck-related accidents.
More than 50 percent of trucks in highway accidents have at least one vehicle defect;
30% of these crashes are caused by equipment failure including brakes, tires, lights, transmission failure, or vehicle overload.
Bad weather caused 14.7 percent of accidents
Rain as the most common cause of bad weather accidents at 72.6 percent, fog caused 12.5 percent and snow 10.1 percent
So, as you travel out and hit the road, be warned that these roads compile the most truck-related accidents each year and with more and more cars on the road will only get worse. Be safe out there!