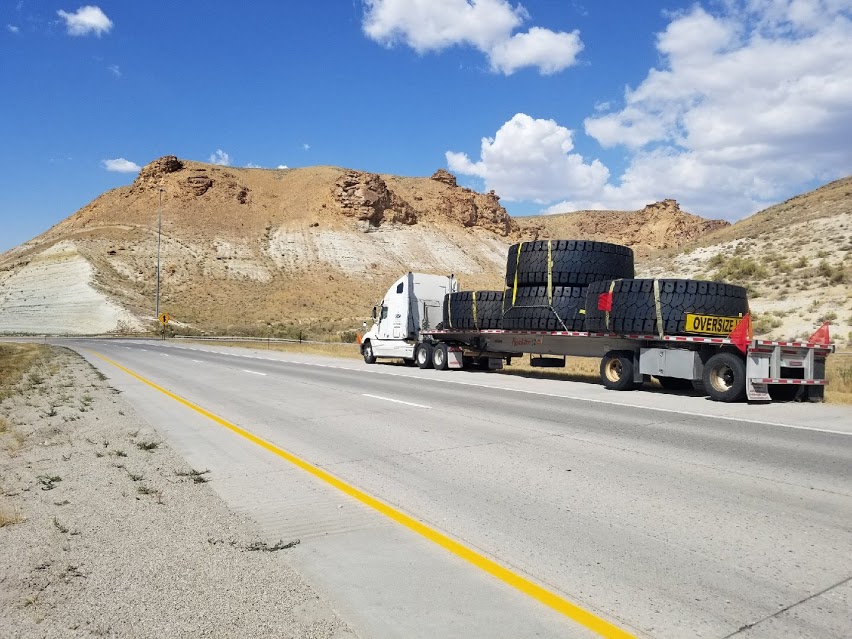 Shipping an oversize load is a complex operation. There is much to consider, from permit requirements to bridges on the route to securing oversize load escorts.
MDS Trucking V is no stranger to shipping oversize loads all across the United States and recently we successfully hauled a set of four 12-foot tires from the manufacturer in South Carolina to a copper mining company in Utah.
One of the factors that make hauling oversize freight so complex is the variety of requirements from state to state. For instance, each state has different requirements regarding permitting for oversize loads. Permits are required by the states when loads exceed that state's maximum legal dimensions. State oversize load permit fees range from $30 to $150.
States also vary widely when it comes to the requirement of escorts. Many local municipalities also have oversize load requirements and a careful plan needs to be in place before an oversize load ships to meet all these requirements.
The professionals at MDS understand these complexities and we have the experience to ensure oversize loads are delivered on time and in a cost-effective manner for our customers.
About Oversize Load Trucking Company MDS Trucking V
MDS Trucking V is one of the nation's leading dry and specialized freight transportation service companies. We pride ourselves in providing the best technology for our interstate drivers to ensure customers' shipments arrive on time. With over 2,000 customers, we have become one of the fastest-growing transportation companies in this industry.
We have successfully delivered hundreds of oversize loads all across the United States, so if you have a large load that needs to travel from coast to coast or across the state, we are the company to call.